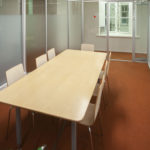 1st floor  9.7 m² and 20.1 m²
1st floor 9,7 m2 – 100 EUR/month + vat.
1st floor 20,1 m2 – 200 EUR/month + vat.
THE WELL PLANNED
LONG TERM MANAGEMENT OF THE HOUSING PROJECT ALLOWS US TO OFFER REPRESENTATIVE OFFICE PREMISES WITH PRICES
THAT ARE LOWER THAN THOSE OF NEW OFFICE BUILDINGS.
More information:
Arno Kannike
CEO
Phone +372 6310 500
Fax +372 6310 501
e-mail: arno.kannike@gmail.com